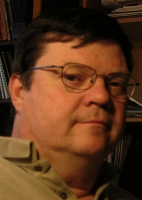 Originally from Vancouver, British Columbia, Michael has lived in Alberta since 1985. He has now been a resident of Calgary, Alberta for over 14 years.
Since childhood, Michael has always had a passion for being creative, but being partially red/green color blind limited his options in artistic schooling at the time.
After settling into a successful career in computers, Michael rediscovered his love for art while exploring computer graphics after the internet came into its own. Rather than focusing on technology to create art, he found a passion for traditional art. Having a creation to hold in his hand was much more satisfying. Drawing came first, and as he adjusted his creative vision for color blindness, painting followed.
A self taught artist, his thirst for more knowledge led to many evening classes and workshops.
In 2007, Michael was diagnosed with multiple sclerosis. Although this affected his physical activity and led to his career in technology slowing down, it meant even more focus on artistic endeavors.
Now retired and working from a wheelchair, Michael continues to paint with acrylics and watercolors, and occasionally draw with conte crayon and charcoal, often using his surroundings in Calgary and the near by Rocky Mountains as inspiration for his artwork.